Powder Coat Buckets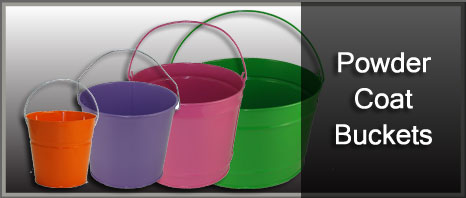 MIX & MATCH PRICING is available for all Tins & Cans. Use the price level for the TOTAL number of cans ordered in FULL CASE quantities in a single transaction. You may mix COLORS within a case on all Powder Coat Buckets.

Minimum order for Powder Coat Bucket items is $150.
SALES TIP: Personalized Powder Coat Buckets are HOT! Monogram Powder Coat Buckets with vinyl letters (available at a local sign shop or many customers have their own machine to cut them) or paint pens for a personalized gift.
Powder Coat Buckets are industrial buckets (frequently used for agricultural use) that have been powder coated. Because of the industrial intention of the buckets, they are not molded metal and any imperfections (bumps, creases, etc.) are a characteristic of their industrial design which is not a defect, but enhances their uniqueness and collectability.
Powder Coat Buckets are generally made to order and we can't make them fast enough due to the overwhelming popularity. Therefore, please allow up to 7 to 10 days before your order ships, plus transit time; we always try our best to get them out as faster. Large orders of a single color may take even longer. Order early for Halloween and Easter!