Heat Shrink Bands & TinTape(TM)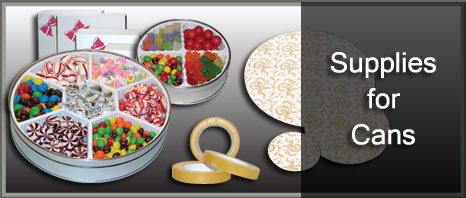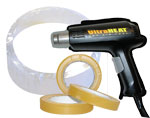 In this day and age, effective and tamper resistant product sealing are a must. We offer two different sealing solutions; heat shrink bands (you know them, although you may not know them by name; it's the same thing that you find on a mayonnaise jar or salad dressing bottle) for many tin structures (more on how to apply below), and TinTape™ stretch sealing tape which will work on any structure.
Heat Shrink Bands are applied with a heat gun. The easiest way is to stack the cans about 4 high with the bands on them. Start blowing on the sides of the cans working up and down while going around the entire stack. Finish them off individually by a quick pass over the top. The key is to get the side sealed where the bottom of the lid meets the side of the can.
TinTape™ is fast and easy to use (all you need is a pair of scissors!) One thing to remember, TinTape™ is not completely tamper resistant; a customer could technically peel the tape off and reseal it back. Our popcorn can customers love TinTape™!
SHRINK BANDS ARE SOLD BY THE SLEEVE (most are 250 to a sleeve, however there are a few exceptions)